FLIRTING WITH FIRE
Blue Collar Brothers Book One
By
Piper Rayne
Genres:  #Romance #RomanticComedy #ContemporaryRomance # LightSuspense #BookBoyfriend
My Rating:  5
Cover:  5
POV:  First-person dual perspectives
Publication:  September 13th 2018
Read:  September 9th 2018  (ARC – provided by InkSlinger PR)
Series:  Blue Collar Brothers:  Flirting With FIre; Crushing On The Cop; Engaged To The EMT
Add to Goodreads: https://www.goodreads.com/series/239588-blue-collar-brothers
Synopsis:
Everyone knows that if you play with fire you'll end up getting burned…
What happens when you attend a first responder's bachelor auction with your best friends? Well, if your name is Madison Kelly like me, your friends end up bidding on a date for you with your high school crush.
That's right. Even back when I was 'Fatty Maddie' to all my classmates, I had eyes for the quarterback of our football team. Not like I was the only one.
Mauro Bianco may fight fires for a living, but he still sets my heart ablaze. One look at the rugged, muscular man he's turned into and I want to slide down his pole.
One date. That's all I'm committed to. A few hours and I can tuck him back into that tattered old shoebox in my closet.
As always, the universe has other plans. I never would've predicted that in a matter of days he'd turn from my dream guy into my business partner-and that's when things got interesting.
My Review: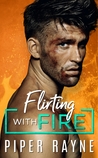 Flirting with Fire by Piper Rayne
My rating: 5 of 5 stars
5 Stars…
Another great beginning to yet another great series from Piper Rayne. The Blue Collar Brothers series introduces us to three sexy-as-sin men: a firefighter, a cop, and a paramedic. Did I mention these men are all hot Italian alphas AND their brothers!
As with all Piper Rayne books, I am excited when I open that first page. This book was no different. In fact I was even more excited because this author duo gives us one of my favorite tropes; you know, the one with "that" girl in high school who is not a "ten." Maddie was that girl. She loved Mauro from afar because he didn't give her the time of day. Except for once. It was the best couple of hours of Maddie's structured life. But her joy didn't last. Because the next day, things went back to normal. There is a story here which you will have to read on your own. I won't spoil it for you.
Forward, about ten years later and Maddie and Mauro are reunited. The truth is they don't get off to a great start. And the build of their relationship is slow but endearing to watch. Maddie is cautious and wary. Mauro doesn't understand why but all he knows is that when he is with Maddie, he feels a connection that he can't deny.
I loved watching their friendship build even before more happened between them. Maddie and Mauro had explosive chemistry. I felt their connection in my bones. Maddie has two friends that will be featured in the coming books along side Mauro's brothers. Flirting With Fire has all the feels. Humor, intense chemistry, angst and even a bit of suspense. While Maddie and Mauro have their HEA, there are unanswered questions we have to anticipate the answers to regarding other characters. I love how all three of these books will be connected.
I have to say that Mauro has been added to my 2018 book boyfriend list. Oh..My..God! His grand gesture at the end was so beautiful. I melted into a puddle of goo. Let me add that not only is Mauro on that list, he is in my top ten! Maybe even my top five!
I absolutely recommend this book and look forward to the rest of the series. If you haven't read anything by Piper Rayne, I believe you are missing out.
This is my honest and unbiased review. Thank you for taking the time to read it. 🙂
You can also find me here:
Facebook Blog:                                                      https://www.facebook.com/justlovemybooks/
Facebook pages:  https://www.facebook.com/Christine.Indriolo777      https://www.facebook.com/christine.michele.77920
Facebook Groups: 
Inside the Pages Pimping and Posting:https://www.facebook.com/groups/1372784379464260/
Sexy Little Books and More:  https://www.facebook.com/groups/215495178571658/
Instagram:  https://www.instagram.com/justlovemybooks/
Twitter:  https://twitter.com/ItsMyLife7777
Goodreads:  https://www.goodreads.com/user/show/31054192-christine-justlovemybooks-com-blog
Amazon (for my reviews):  Christine Indriolo