I FLIPPING LOVE YOU
Shacking Up Book Three
By
Helena Hunting
Genres:  #Romance #ContemporaryRomance
My Rating:  4
Cover:  5
Publication:  May 29th 2018
Read:  April 4th 2018
Kindle Edition:  320 Pages
POV:  First-person dual perspectives
Series:  Shacking Up:  Shacking Up; Hooking Up; I Flipping Love You
Check out the series: 
https://www.goodreads.com/book/show/33838194-shacking-up
https://www.goodreads.com/book/show/35048632-hooking-up
https://www.goodreads.com/book/show/36048542-i-flipping-love-you
SYNOPSIS:
A new kind of love story about flipping houses, taking risks, and landing that special someone who's move-in ready…
SHE'S GOT CURB APPEAL
Rian Sutter grew up with the finer things in life. Spending summers in The Hamptons was a normal occurrence for her until her parents lost everything years ago. Now Rian and her sister are getting their life, and finances, back on track through real estate. Not only do they buy and sell houses to the rich and famous, but they finally have the capital to flip their very own beachfront property. But when she inadvertently catches the attention of a sexy stranger who snaps up every house from under her, all bets are off…
HE'S A FIXER UPPER
Pierce Whitfield doesn't normally demo kitchens, install dry wall, or tear apart a beautiful woman's dreams. He's just a down-on-his-luck lawyer who needed a break from the city and agreed to help his brother work on a few homes in the Hamptons. When he first meets Rian, the attraction is undeniable. But when they start competing for the same pieces of prime real estate, the early sparks turn into full-blown fireworks. Can these passionate rivals turn up the heat on their budding romance—without burning down the house?
I FLIPPING LOVE YOU, set in the Shacking Up world, follows two people, both working in real estate, who find themselves vying for the same properties in the Hamptons, leading to a sometimes-not-so-friendly competition.
MY REVIEW: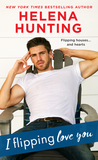 I Flipping Love You by Helena Hunting
My rating: 4 of 5 stars
4 Stars!
So in love with the Shacking Up series. You can't help but to fall in love with the characters and their heartwarming stories.
Rian and Pierce meet in the best way. He literally mistaken her for her twin. And let's just say that Pierce is NOT happy with Rian's twin sister.
Although, there is attraction pretty early on, and Pierce tries multiple times to get a date with Rian, she holds steady with a resounding, "no." Rian has her reasons. Her life was upended in prior years and she, along with her sister are just trying to make a successful living. Rian doesn't have time for dating.
Pierce and Rian keep running into each other. It is inevitable that they will connect at some point. Their relationship started off slow but then blossomed in the sweetest way. At first, I wasn't sure about Pierce's character. Since I actually read I Flipping Love You book before the prior which is Pierce's sister's book, I would have met him earlier. I loved him in Amalie's book.
While there are some conflicts and a bit of angst, as well as a secret or two, I enjoyed this book. I wasn't frustrated with Rian's stubbornness and her trying to push Pierce away. Especially because of his adorable persistence. Pierce was romantic and sexy.
That said, I wasn't the biggest fan of Marley who is Rian's twin. Nor did I care for Lawson. But towards the end of the book, they grew on me. In fact, I am hoping the author will give us a book featuring them together. They seemed to be perfect for each other. I don't want to spoil anything but when you read this book, you'll see what I mean.
This is my honest an unbiased review. Thank you for taking the time to read it. 🙂