Book Cover Rating:  5
Genres:
 Romance, Romantic Comedy, Adult, Erotic, 
Published:

 
January 9, 2017
Read:

 
January 9, 2017
Series:

 Men of Rom Com:
Big Rock     Mister O     Well Hung
Told in the heroes' POV; 1st person
Synopsis:
From the New York Times Bestselling author of MISTER O and BIG ROCK, comes a hot & hilarious new standalone romantic comedy…
I've been told I have quite a gift.
Hey, I don't just mean in my pants. I've got a big brain too, and a huge heart of gold. And I like to use all my gifts to the fullest, the package included. Life is smooth sailing….
Until I find myself stuck between a rock and a sexy roommate, which makes for one very hard…place.
Because scoring an apartment in this city is harder than finding true love. So even if I have to shack up with my buddy's smoking hot and incredibly amazing little sister, a man's got to do what a man's got to do.
I can resist Josie. I'm disciplined, I'm focused, and I keep my hands to myself, even in the mere five-hundred square feet we share. Until the one night she insists on sliding under the covers with me. It'll help her sleep after what happened that day, she says.
Spoiler—neither one of us sleeps.
Did I mention she's also one of my best friends? That she's brilliant, beautiful and a total firecracker? Guess that makes her the full package too.
What's a man stuck in a hard place to do?
My Review: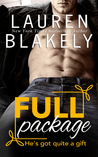 Full Package by Lauren Blakely
My rating: 5 of 5 stars
"Full Package" is by author Lauren Blakely.
My Rating: 5
No matter what's up next on my TBR, that will get bumped when Lauren Blakely releases another in her Men of RomCom series. Told in the heroes' POV Full Package is a friends to lovers" trope. This romantic comedy tells the story of Chase Summers and Josie Hammer. Josie is the younger sister of Nick and Wyatt whose stories were told in Mister O and Well Hung.
Chase and Josie have been best friends for years. It takes them sharing an apartment to realize they have "more than friend" feelings for each other. These two have an off-the-charts scorching attraction to each other. They are not just physically attracted; there is so much more to their feelings. At first they both try very hard to keep their attractions hidden. The fear they each share of destroying their friendship by acting on their attraction is palpable and almost always at the forefront of their interactions, no matter how innocent they are. Simply watching TV or cooking together was a task at survival. Even though this is most definitely a trope we have read many times before, in my opinion, Lauren Blakely took this several steps further by integrating humor and intense sexual tension. I was completely engrossed in this book. I fell in complete love with the adorable couple that Chase and Josie developed into.
Chase is an ER doctor at Mercy Hospital in NYC. He is gorgeous, sexy, smart, sweet, and so so considerate of Josie. He always puts her first. There is no question in my mind how easy it was for Josie to fall in love with Chase. The perfect man. Definitely book boyfriend! I want to add that Chase, of all the men in this series, is by far and away my absolute favorite hero. Unquestionably.
Josie owns a bakery in NYC. She is fun and loyal and quirky. I just adored her character. Although we did not have Josie's POV, there are hints of her true feelings "written" in her recipes. You'll have to read to understand what I mean.
I couldn't believe how quickly I gobbled up this 300 pages that was Chase and Josie's romance. So sad when it was over. It was fun and funny. There were sweet and tender moments as well as a significant amount of sexual tension and witty dialogue. Did I mention there was a lot of sexual tension? Oh yes!
I am looking forward to the next book which will feature Chase's older brother Max, who is a sexy-as-sin custom automotive shop owner.
**Five stars to Lauren Blakely**