Genres:  Romance, Christmas, Adult, Paranormal
Told in Alternating POVs (primarily H/h with some from the villain)
The Blurb:
A woman who talks to ghosts.
A man mistaken for dead.
An ancient evil that stalks them both.
Writer Kerri Tollbrook spends her free time counseling the newly departed, but the tall, dark and handsome spirit she meets at the shopping mall claims he's not dead. Is he just in denial? Or is something more sinister at work?
Firefighter Galen McAllister has felt like The Invisible Man ever since a malicious spell separated him from his still-living body. Kerri is the first person he's met who can actually see him. Now if only he can get her to listen … because the nightmare creature that trapped him between two worlds is far from finished!
Dani Harper's Christmas ghost story returns as a full-length novel! The characters from this popular paranormal romance have haunted their author into "resurrecting" the story, making it bigger, better…and BADDER!
My Review: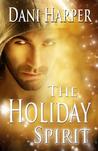 The Holiday Spirit: All She Wants for Christmas Is a Ghost… by Dani Harper
My rating: 5 of 5 stars
Absolutely one of the most memorable stories I've read. It was not only romantic but the paranormal suspense was incredible. So much more than simple romance. Totally recommend this to add to your TBR holiday lists!!!
*This is a revised edition. Original, which is no longer available was much shorter*
"The Holiday Spirit" All She Wants for Christmas Is A Ghost… is written by author Dani Harper.
Every November I filter in Christmas romances in between my usual reading. By mid December, I'm reading mostly holiday novels. Not only is Christmastime my favorite time of the year for the obvious reasons, but also because I love reading heartwarming stories written with a Christmas theme. So far I have already read several and "The Holiday Spirit" is my favorite. It's not a typical romance. There is suspense and some darkness that I don't usually like to read about in a Christmas romance. However this one was amazing and my first five star rated in this genre. Wow, Dani Harper had to have done some intense researching to make this story so realistic given it is a paranormal. "The Holiday Spirit" is one of my top ten holiday romances ever.
So if you love Christmas, paranormal romance and a lovable cast of characters, you must add this book to your TBR.
Kerri Tollbrook is a writer, a lover of nature and someone who respects all the elements of Earth, seen and unseen. Kerri is a counselor to ghosts. I wouldn't exactly call her a stereotypical witch although she can cast magic spells. She is smart, kind and very good in heart and soul. I really adored her as a character.
Galen McCallister is not dead (yet) but an ancient spell cast by an evil entity has removed his spirit from his body. For almost a year he has existed in a ghostly form. When he discovers that Kerri can actually see and talk to him, he remains by her side, unwilling to lose the human connection she offers. Kerri may be Galen's only hope in removing the evil spell and putting him back into his body. A body that currently lays in a coma in the hospital.
Kerri, along with a magical, lovable cast of characters set out to find a way to help Galen before it is too late. If they don't hurry, the spell cast upon him will become permanent and he will lose his life completely. Not only will he cease to exist, he will lose the woman he has grown to love with all his heart.
This novel was fun, adventurous, quirky at times and romantic. There was darkness too that threatened not only Galen and Kerri's happily ever after, but their very existence.
"The Holiday Spirit" is definitely a reread for me!
🎄🎄🎄🎄🎄 Best Holiday Novel…..